Livingston Manor Yoga Instructor
Welcome to Right Foot Yoga with Jane Mann, a certified Vinyasa Yoga Instructor who teaches yoga in Livingston Manor. She completed her apprenticeships at the Body Art Studio, a Yoga Alliance recognized yoga teacher training center in Blooming Grove, NY. In addition to her Mastery of Yoga Teacher certificate Jane holds both 200 and 500 hour Advanced Yoga Teacher training certificates obtained under the direction of Michelle Dawson at the Body Art Studio.
Jane's Vinyasa Flow style workouts, set to fabulously cool music, are fun yet challenging and playful! Learning yoga can provide students with a variety of benefits. Some of the more common benefits our clients experience are:

Come, experience for yourself the benefits of a professionally qualified and insured yoga instructor. Take your first step to the path of Right Foot Yoga in Livingston Manor, NY


Right Foot Yoga is a proud supporter of 2016 Ride 2 Survive Sullivan County!





Yoga at CAS Laundry King

---
If you are looking for Creative Vinyasa Yoga in Livingston Manor, you have come to the right place! Classes meet every week at the CAS Laundry King at 65 Main Street in Livingston Manor, NY.

Regular Ongoing Schedule:
*Tuesdays: 4:30 for Creative Vinyasa
6:00 for Vinyasa II
Wednesdays: 5:45 for Beginners/Gentle Yoga
All classes by Right Foot Yoga in Livingston Manor will be 75 minutes and will be infused with down-to-earth philosophy and inspiration so you will learn to take your yoga off the mat and into your daily routine!

$10 per class.
Or pre-pay and get a 5-Fer or 10-Fer class discount card.
Discount Cards and Gift Certificates are always available
Mother's Day 2017 Special Events:
Saturday May 13th 8:30 am and 10 am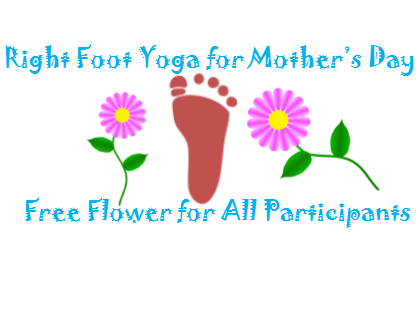 To request a gift certificate, further info or to be added to our email list, please fill out the form on the Contact Us page.
For complete descriptions of classes, click here.